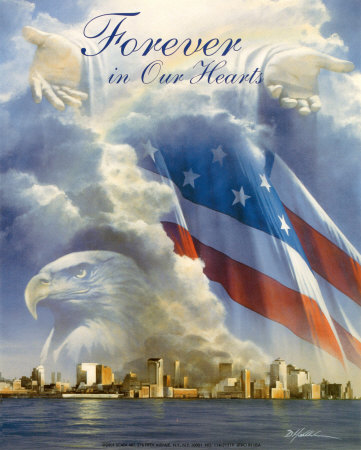 by Danny Hahlbohm
available for Sale from Art.com for $7.99 plus shipping.
I've been putting off writing this post – I admit it – but not because I didn't want to write it – but because I want to make sure that I honor those lost on that horrific day.
I heard about the first plane while dropping my daughter off at Pre-k.  By the time I got home, the 2nd plane had hit – and, at that moment I knew that 2 planes was NO accident.  Actually, I take that back – I had an initial thought that something was wrong with the flight electonics – that something was transmitting an incorrect flight path.  It actually wasn't until the Pentagon that I knew without a shadow of a doubt that this was planned &something very very bad was happening.
My "baby" was truly a baby then – he was 6 mos old.  I think about that whenever we talk about how long it's been.  I think about the fact that that day truly changed EVERYTHING.  He would never grow up in the same America that I grew up in.  I knew that instinctively then – all I wanted to do was pick my daughter up from preschool and seclude ourselves at home. But, I didn't.  I did however watch in horror as the buildings came down – I remember thinking "This can't be real" – surely, they are just showing us what could happen and doing what news people do.  But, no – this was really happening.
I remember, as stories came out about Flight 93, how amazed I was at the bravery of those on board. The fact that they were willing to sacrifice themselves for others – they did something that was HARD and met the danger head on instead of waiting for the inevitable to happen.
Out of the wreckage, I was encouraged by Americans coming together – even through the shock, fear, and misery – we reached out to our friends and neighbors – and, yes even perfect strangers.  Why? Because we are Americans! Whatever your background, we are united together by a unique history – we are part of a nation that was founded on God – FIRST.  And that, my friends is what makes all the difference.
10 years ago we experienced an event that would change our culture forever – but today I am thinking of those LIVES that were changed forever.  Those who lost a loved one or may have been injured themselves.  They are who I am praying for today and I pray that we all will always remember THEM as well on this day, the day that changed everything.